It's been a while - Activation Energy V3

Getting Started...
I'm changing up the format of this newsletter, let me know what you think.
Providing a catalyst
Every week I'll share key insights from a conversation I had learned a lot from in a series called, Providing a Catalyst.

I've had too many interesting conversations to count these past few weeks. Here's a reoccurring theme from my conversations with various people, primarily college students:
The only thing stopping one from doing something is his or herself.
If I had a nickel for every time a college student told me they don't know what they want to do, I'd be able to pay off my tuition. There's nothing wrong with not knowing what to do. The issue is too many people, including me, aren't willing to accept what they want. Instead, they let fear drive their actions.

What is everyone so afraid of? (AKA Self-Limiting Beliefs)
What others will think, the future, the past, and above all uncertainty.
We're evolutionarily wired to want comfort and to fear change, so don't beat yourself up about it. However, it's important to recognize we don't have to succumb to our primal instincts and that we have the option to do what we want.

I implore you to think about what your self-limiting beliefs are and to stop letting them dictate your actions. Instead, choose to do things you think you're incapable of.
Lighting a match
I hope something here inspires you to do something or learn something new.
My Updates

A few weeks ago, I decided to take a seemingly random trip to Seattle, Washington during a school week. After taking some time to reflect on the trip, here's what I've learned:
There are no stepping stones, in order to achieve something you have to take a leap of faith and be all in.
I've always found myself thinking that in order for X to happen Y needs to happen first. This trip made me realize, more than ever before, that it is simply is not true. The only thing stopping me from doing X are my self-limiting beliefs.

This got me thinking, what is X?

For me, X is (1) doing what I love doing (2) with the people I want to do it with.

(1) What is it that I love doing?

I've learned that I get the most joy from creating. Whether it's this newsletter, a business, a project, a presentation, an idea, or something else. I enjoy the work of creating things and then sharing them with the world.

Hopefully things of value, but I'm not the judge of that.

(2) Who are the people?

A principle I live by is, "If I don't see myself working with someone for life, I won't work with them for a day." Ever since I came to college I've been on an endless search to find those people. In fact, that's what prompted me to become President of Rutgers Entrepreneurial Society. Over the past three years, I've made a short list of those people who I'd work with for life.

How am I taking a leap of faith and going all in?

I declined a supply chain operations internship with Amazon for the summer.
My current internship will also be coming to an end on May 15th.

I've bought a one-way plane ticket to Seattle, Washington for May 16th.

The plan is to do more of what I love: writing, reading, and working on side-projects with close friends.

Let's get some coffee before I leave if you'd like. =]

Here are some articles I've written recently: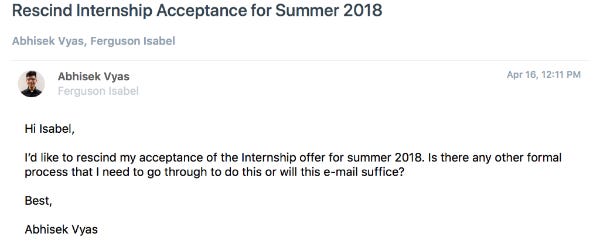 Ending Note
Thank you for signing up and reading this edition of Activation Energy.

- Abhi Vyas

If you enjoyed this newsletter,
it would mean the world to me if you shared it with a friend!